Colored Accessories For The Bride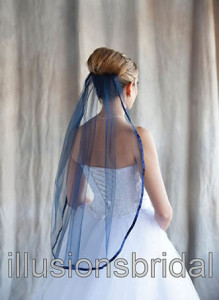 Colored accessories for the Bride?  Sooo…You're not a fan of  white.  And as the bride, you want to add a splash color to your ensemble.  Not hard at all, and surprisingly, there are many options.  Take the bride in the top photo.  I'm not sure if I'd wear it, but she incorporates her "Something Blue" nicely with her veil.  I think maybe a paler blue would be a softer touch, by maybe she was going for a color contrast with her white gown.
What about a tulle slip to highlight your own personal sense of sass, and the color theme of your wedding?  I think the above photo is very fun.  Maybe shoes to match?  Granted, a ball gown type of wedding dress would be required to adequately pull this look off, but it's sure cute.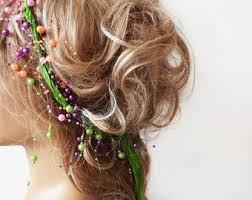 A bride can always choose to brighten the 'all white' standard by using colored hair accents or jewelry.  The earrings below, added to the bride's mostly white look, would really be a stand-out.  Of course, you don't want the focal point to rest mainly with jewelry…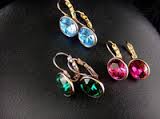 I love the shoes below.  They would be adorable at a church wedding if the bride and groom kneeled at the alter.  And it would take care of the "Something Blue" part of the old tradition.  My own mother had but one request at my wedding.  She asked, well DEMANDED! :-) that Kenny not write, "Help Me" or some such nonsense on the bottom of his shoes – to be seen by the congregation when we knelt at our wedding.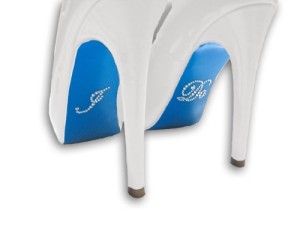 Whatever you choose, remember, there is no right or wrong…just what you like and want for your wedding – well your groom's choices should be considered too…But he's not quite as important as you are…
Check out my website:  http://mybookbaby.com/book/simply-the-best     It showcases my new mystery.  "Simply the Best" is about a Wedding Planner in sunny southern California.  "Simply the Best" available in e-format from amazon, Barnes and Noble, Apple iBooks, Gardners and other vendors.  A great deal at only $ 2.99!
Follow me on twitter @marypkarnes, and my other blog: marypkarnes.com
Image #1 www.weddingshoppeinc.com
Image #2 weddings-plaza.com
Image #3 photo225batonrougeweddingphotographer.com
Image #4 etsy.com
Image #5 www.dhgate.com
Image #6 weddingdressesus.com