Are You That Edgy Bride?
Are you that edgy bride?   The one who does everything just a little differently? Is your wedding the time, OR the place to lay that out for all to see?  Well, that depends on you.  Remember, there is no right or wrong when it comes to YOUR wedding.  As long as you are kind, think of others, and are respectful, it's your day!  Do as you wish!  Ok, that was a pretty

broad statement, 'be kind' and all that.  What I'm referring to, is taking others into consideration.  For example, if you're having a large party of bridesmaids, and you're considering excluding just one future sister-in-law, don't.  Add her in.  Your friends will come and go, but family won't.  OR…do not stick a guest at a table where she'll be uncomfortable just because you had a tiff before the wedding…
But when it comes to your dress, your colors, your menu —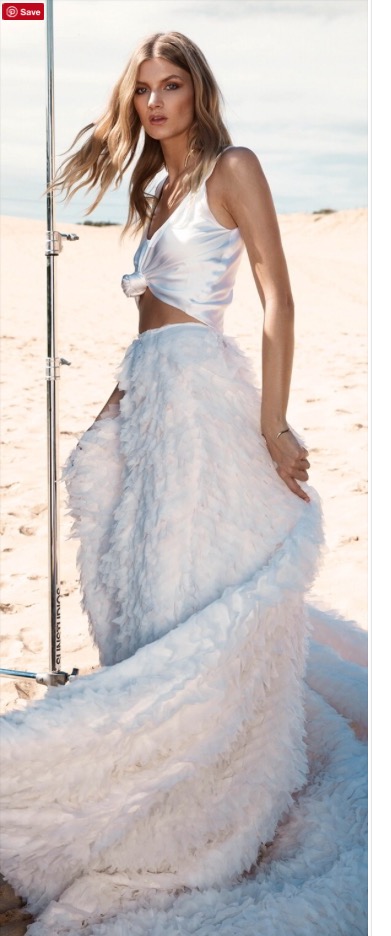 it's all about YOU!  There is no wrong, just your desires!  That being said…a few of the featured dresses on this post were posted for shock value.  I know few brides who would choose them, and even more importantly, who could pull the styles off.  One would almost have to be a 6′ tall model to do so.

But really, aren't they spectacular?  I think the one above would work for a destination beach wedding!  In fact the top three photos appear to be on a beach.  And I'd have to say…they're better than Pamala Anderson's white bikini!  :-)  Now that comment was for women of a certain age.  Perhaps some younger brides do not remember her, OR her beach wedding. But to slightly older ladies, it's iconic.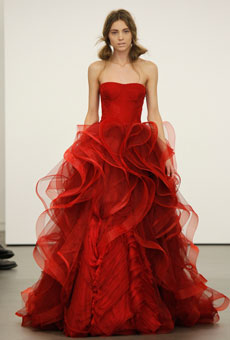 Perhaps a bit of color?  Now THIS is bold…  According to "Brides Magazine, 14% of all brides would consider a colored gown.  And a few more interesting facts from "Bride's Magazine" — 18% of all brides find their dresses on-line.  And…only 1% of all brides purchase their dresses at a Sample sale.  I was surprised at that figure.  I thought it would have been much higher.