Wedding Dresses For Your Body Shape – Inverted Triangle
Wedding Dresses For Your Body Shape – Inverted Triangle
Working in a bridal shop I often see girls with a very specific idea of what they want their wedding dress to be like. Often times I can tell by looking at the girl whether their ideal dress is going to work on their body shape or not. It can be a very disappointing experience for a bride to be to find out the dress she has been dreaming about simple doesn't suit her because it just doesn't flatter her body shape.
Here is a simple guide to help you stay focused and realistic when it comes to scrolling through Pinterest and flicking through bridal magazines. There is no harm in trying different shapes and styles on if even just for the heck of it, it is supposed to be a fun experience but if you are finding it difficult to find the dress for you knowing what shapes work for your shape can be a big help.
The first body shape I'm going to tackle is the inverted triangle, also known as strawberry or cone. It might sound a bit obscure but its pretty straight forward basically this means that you have broad shoulders and narrow hips. If you are an inverted triangle you are in super company. Well super model company anyway. Runway stars Naomi Campbell, Cindy Crawford, Gemma Ward and Gisele Bundchen are just a few.
In case you are still unsure here are the characteristics of an inverted triangle body shape.
Shoulders are noticeably wider than hips.
Little or no waist definition
Shoulders are often strong and squared
Small bum
Bust is often large for body frame
The key to dressing any body shape is t0 create symmetry and proportion. You will do this by creating volume around your hips to balance your shoulders and define your waist.
Here is what to look for in a wedding dress to accentuate your figure:
Look for A-line, Ballgown and Peplum dresses. They will create volume at your hips balancing out your shoulders.
Stay away from Fishtail, Trumpet, Mermaid, Fit and Flare or any style that is fitted to your hips. It will accentuate your narrow hips and broad shoulders and leave you looking imbalanced and out of proportion.
V-necks and halter necks will be amazing on you because they will accentuate your strong shoulders.
If you do have a larger bust stay away from strapless, for obvious reasons, and high necks as they will only make your bust appear larger.
Look at dresses with a belt or some sort of detail at the waist to help define your waist.
Stay away from dresses with no definite waist.
Here are some of my wedding dress picks for your body shape.
This Pronovias dress does everything for your shape.
This Mori Lee Blu dress is perfect to showcase your supermodel figure.
This Monique Lhuillier dress will show off your killer legs and strong shoulders as well as defining your waist.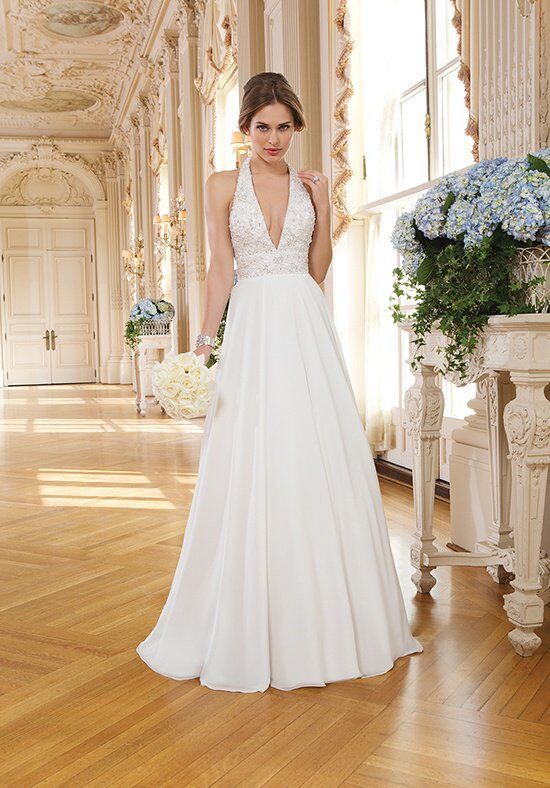 This Lillian West halter neck dress is perfect for you if you don't want too much volume in the skirt.
I hope that has been some help ladies.
Feel free to ask any questions in the comments
by Zita Kelly
writer, stylist and blogger at ZeeRailed
Follow me on Instagram, Twitter and Facebook
Images via respective designers